WELCOME  
Since 1985, our mission has been to help facilitate the eradication of sexual abuse through education and therapeutic services. We appreciate you taking the time to learn more about the unique and powerful work we do at A Step Forward.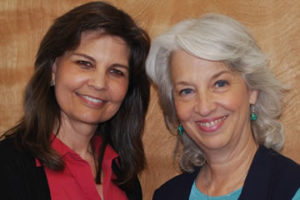 We, Caprice Haverty, Ph.D. and Anna Weisberg, Ph.D., the co-directors, first met as interns in 1988 at Children's Hospital Oakland (CHO), where we helped families and children recover from medical trauma and emotional, physical, and sexual abuse. A couple of years later we were together again at a child sexual abuse clinic in Fairfield, California. Since that time Dr. Weisberg has been specializing in the treatment of traumatized children and adults, while Dr. Haverty, also working with adults who have been sexually abused as children, has been treating perpetrators of sexual assault. With our long history of offering programs for the whole family, including victims and offenders, we remain deeply committed to offering both family repair and reconciliation.
Today A Step Forward, Inc. is a thriving community outpatient clinic that focuses on providing psychotherapy and forensic services where child sexual abuse, addiction, and/or high-conflict divorce have occurred. We love what we do and care as deeply about our mission today as we did all those years ago at CHO. Both as individuals and a team, we have come to be known and respected for our ability to hold and treat all sides of the abuse dilemma. We have built a compassionate community with new and seasoned therapists who share our level of commitment, passion, and unending effort to listen, attune, understand, and help our clients transform their pain, discomfort, and limitations.
We also offer guidance as some of our clients navigate the court system. We provide forensic consultation, including evaluation and testimony, as well as psychological education, intervention, and treatment on a continuum from prevention to reconciliation between those who have caused hurt and those who have been hurt. In addition, we treat people struggling with chemical and various forms of sexual addiction, including pornography/cybersex and prostitution.
A primary value amongst the entire A Step Forward staff is collaboration, believing that our combined wisdom is greater than any single one of us. We have high ethical standards and continually reach for more training. We stay on top of current research for the most effective treatments. We also maintain an understanding that our clients are as curious and as striving as we are, and that none of us should stop until we get it right. The stakes are simply too high, and we have seen personally the life-altering positive impacts of such diligent effort.
Thank you for taking the time to learn about A Step Forward. We look forward to serving you in the best way possible.
Sincerely,
Caprice Haverty, Ph.D.
Anna Weisberg, Ph.D.